Link: all DALI-2 certified devices
---
DALI-2
Since November 2014, a new version of the DALI standard is available, the Edition 2 – also called "DALI-2". DALI-2 is intended to eliminate ambiguities in the existing standard and to ensure better interoperability between devices of different manufacturers (revised parts 101 and 102). While Edition 1 described only control gear and general communication, Edition 2 includes, in addition to more detailed parts 101 and 102, a separate standard for control devices (part 103) and device type specifications for push buttons (301), analogue inputs (302), motion sensors (303) and light sensors (304).
DALI
Since the late 1990s the DALI-Standard is defined in IEC62386. While Part IEC62386-101 describes the general characteristics of DALI, control gear standards are specified in the IEC62386-102. For different device types (DT0-8), additional standards (IEC62386-201 to IEC62386-209) were gradually added. For example, the device type 1 describes the property of DALI emergency lighting devices and the device type 6 LED control gears.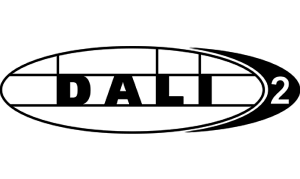 The most important changes in DALI-2
Additions, improvement of standard 101 (General Requirements – System Components):
specification of DALI bus power supplies
bus-powered devices
devices with multiple logical units
definition of device labelling
changes and additions to frame format and timing for supporting control devices (single- and multimaster)

 

test sequences
Additions, improvement of standard 102 (General Requirements – Control Gear):
extended fading (100ms to 16min)
switch on to the last current value
manufacturer-specific operating modes
revised and more detailed test sequences
New standard 103 (General Requirements – Control Devices):
definition of singlemaster and multimaster systems

 

specification of input devices (details on different types in standards 301-304)
specification of application controller (common control device properties)
definition of 24-bit frame format, as well as addressing modes and events
manufacturer-specific operating modes
test sequences
Important: Operating and control devices use a different frame format, therefore with Dali-2 up to 64 operating devices and 64 control devices on one DALI line are possible!
Compatibility of DALI and DALI-2
Basically, the same commands are used for DALI and DALI-2, so DALI-2 devices can be easily used in conventional DALI systems.
It is also possible to use DALI devices in new DALI-2 systems, however the additional functions, such as extended fading can not be used.
Each device with DALI-2 logo is tested for compatibility with a standardised test equipment and certified by the DiiA. As confirmation it is listed in the product database of the DIIA. 
The changes in DALI-2 are intended to increase interoperability, especially in situations in which an existing DALI operating device should be replaced by a new DALI-2 operating device or DALI-2-compatible control devices should control DALI operating devices.
More Details on backward compatibility: https://www.digitalilluminationinterface.org/dali/comparison.html
Lunatone and DALI-2
As a long-standing manufacturer of DALI devices, Lunatone is an associate member of DiiA and has the necessary test equipment to test all devices for DALI-2 compatibility.
The certification of the LED drivers on DALI-2 is ongoing and will be completed by June 2018. DALI-2 certified bus supplies have been available since early March.
For the control components, Lunatone has already implemented DALI-2 on some devices based on the specifications, as soon as the test sequences are available they will be available immediately.
DALI-2 Instance mode
DALI-2 input devices in Instance mode are for use in systems with higher-level controls / central control units.
DALI-2 input devices in Instance mode do not send direct DALI control commands.
Each functionality of a DALI-2 input device corresponds to a DALI-2 instance.
Each pushbutton or other input method, and each detectable sensor value (motion, light, temperature, etc.) of an input device is a separate DALI-2 instance.
The DALI-2 instance reports its value status periodically, on request or as an event on status change.
This status report can be processed by the central control system to provide the necessary DALI control commands.
Details on instances and the configuration options can be found here:
Downloads & Links